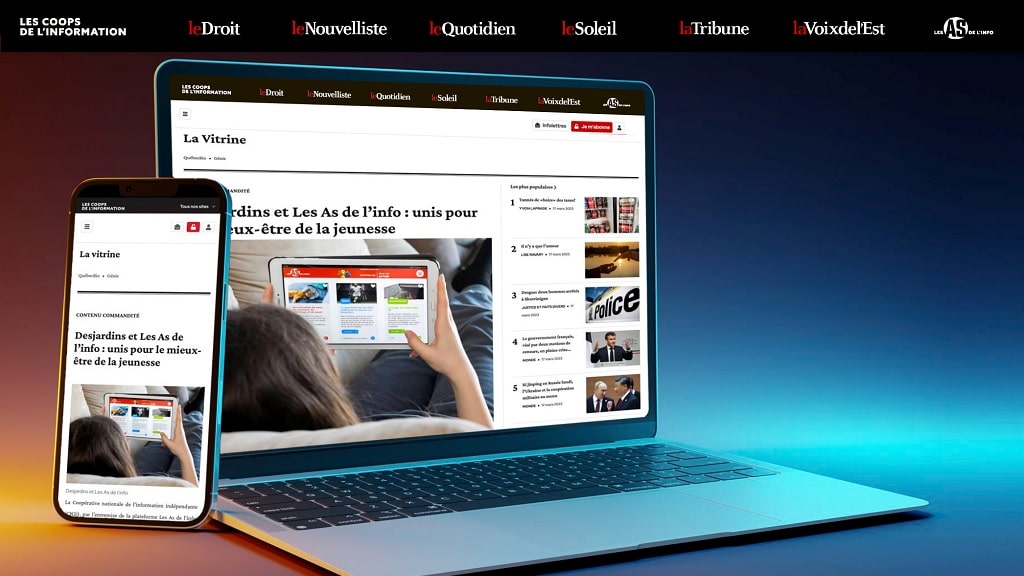 La Coopérative nationale de l'information indépendante (CN2i) is a media group based in Quebec, Canada. Founded in 2020, CN2i has become the largest media cooperative in Quebec, owning six information media outlets: Le Droit in the Ottawa-Gatineau region, Le Nouvelliste in Trois-Rivières, Le Quotidien in the Saguenay-Lac-Saint-Jean region, Le Soleil in Québec City, La Tribune in Sherbrooke, and La Voix de l'Est in Granby.
When the cooperative was launched, its business plan was built around two key priorities, namely, to accelerate the media group's digital transition and diversify its activities so as to ensure its long-term success.
Challenges
CN2i was facing multiple obstacles relating to their legacy computing software, which would substantially compromise progress on their business plan's key priorities. The existing technology was no longer meeting their global operational demands and particularly their new reporting and financial management requirements.
The media group also needed to find a solution fast, as the license on their outdated software was coming to term. CN2i quickly identified the issues that were preventing them from moving forward with their growth ambitions:
Standalone software incompatible with modern solutions

Weak security controls

Redundant and inefficient processes

No reporting and analysis capability

Bad user experience for employees
Solution
Following a shortened due diligence process where several solutions were measured against their priority requirements, CN2i selected the Acumatica Cloud ERP as the best option to address their business-critical needs relative to process efficiencies, user experience, security, and reporting capabilities. To resolve their more specific reporting and analysis requirements, the media group also opted for Velixo, an Excel-based reporting tool that was built specifically for the Acumatica solution.
The Acumatica Cloud ERP solution provided a seamless integration for CN2i's global operations and offered capabilities that fulfilled their current needs and would evolve to adapt to the media group's development plan. Additionally, the powerful and versatile Acumatica Cloud ERP was the most affordable solution capable of delivering a:
Fully integrated system

Enhanced security

Streamlined operational processes

Powerful reporting and analysis capabilities including Velixo

User friendly experience for their employees

Bilingual French and English solution
Results
The Acumatica solution implementation process was led by the ACCEO ERP team of experts and supported by an internal CN2i team. Using a tested methodology, the ACCEO ERP team took a step-by-step approach to the project, supporting CN2i in every phase of the transition from acquisition to user training.
Subsequent to the solution implementation, CN2i's business processes have improved and have had a measurable impact on lowering operational costs, improving security, and gaining efficiencies, while benefiting from the ongoing support of the ACCEO ERP service team.
"The ACCEO ERP team provided expertise, support, and training to ensure a smooth and successful transition for CN2i. Acumatica Cloud ERP along with Velixo are exactly the user-friendly solution we were looking for and have enhanced reporting and analysis capabilities across our media group." – Andréanne Simard, CPA Directrice des finances.
"We are extremely satisfied with the Acumatica solution's return on investment. We have made significant time savings, increased our operational efficiency, and we have more user autonomy because the solution is easy to use for our employees." – Véronique Moison, chef des opérations financières.
Is it time to replace your ERP software?
Tell us about your project. For our team, it is an opportunity to contribute to the success of a local company and to undertake a winning partnership.
Contact our ACCEO ERP team to learn more about the Acumatica platform.