Why transition to an ERP?
Your growth is being dragged down
by your accounting system.
As your business grows, so does the complexity of managing your finances and operations. In time, your needs evolve beyond the capacity of basic accounting software. Eventually, limited functionality leads to wasted resources and inadequate information. In the end, you lose time and money.
Signs that an accounting system is inhibiting growth
Redundant data entry. Too many errors to correct.
There's a risk you're creating duplicate entries. You are regularly having to import and export data manually. You waste time tracing and correcting entry errors. In the end, nothing balances!
There's a lag between your system and your processes.
Too many tasks have become too complex for your accounting system to manage. You have to carry out manual inventories to ensure continuous accuracy. It's impossible to automate the process. In the end, you are not getting ahead, you are going backwards!
Inaccurate figures. No real-time display.
You are unable to view your cash flow quickly. Inaccurate data makes it difficult to determine profit or loss, plan finances, manage risk and make informed decisions. In the end, you begin to doubt your numbers!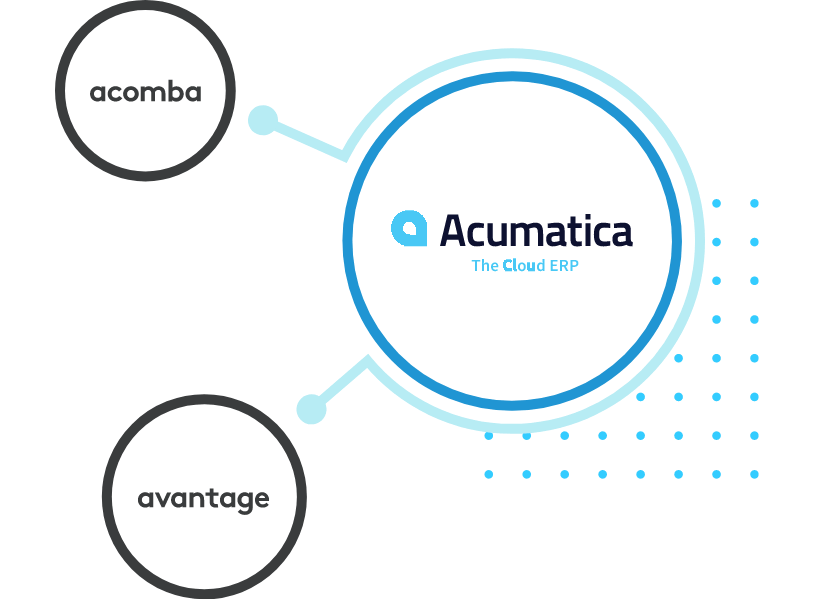 Have you run out of options using your basic accounting software?
Acquiring an ERP system is much more than a product purchase. It's the start of a digital transformation.

Implementing an ERP system represents a major undertaking for any organization. The challenge begins with choosing the right system, but even more so with ensuring its seamless implementation. The ACCEO ERP solution provides complete management and support.
Fully integrated management and support
Getting the most out of your ERP system also means improving your business processes. We are on hand to provide expert guidance on best practices.
ERP implementation experts
We are ERP system experts, so we know the full scope of their capabilities. We can help you identify your functional requirements and make informed decisions.
Smart customization
We carry out an objective and detailed assessment of your needs. It's our job to help you capitalize on Acumatica's full flexibility while avoiding the trappings of an over-customized system.
Why choose Acumatica?
Get access to all the features of a world-class ERP, at a price that your SMB can afford.
Ideal for any growing SMB, Acumatica is the perfect solution for companies managing business acquisitions, multilingual customer bases or automated processes. The Acumatica ERP system offers you the highest satisfaction rate in the industry.
Would you like a personalized demo?
Let's start by assessing of your needs.